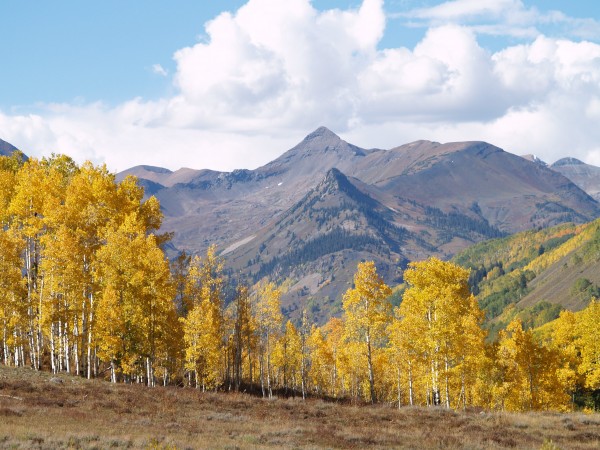 The official Fall Sign Up Season for 1% for Open Space is open now through December 15! These slower days of fall are the perfect time for local businesses to sign up for 1% for Open Space.
Since 1997, 1% has collected over 2.7 million dollars to help protect over 12,000 acres solely in Gunnison County. In Crested Butte this includes such popular trails as the Snodgrass, Lower Loop, Lupine Trail, and Rec Path; areas such as North Pole Basin, Paradise Divide, Yule Lakes and Schofield Park; and working ranches such as Rozman, Lazy F Bar and Cold Spring. In Gunnison our projects have put conservation on crucial historic ranchland such as Razor Creek and Tomichi Creek, as well as recently helped fund progressive projects such as the reconstruction of Gunnison Whitewater Park features and restoration of Tomichi Creek on the W Ranch.  1% for Open Space is also a proud funder of the recent Trampe Ranch Conservation project, permanently preserving 6,000 acres in Crested Butte, Almont and Gunnison as well as local stewardship initiatives such as Mountain Manners and the Crested Butte Conservation Corps.
Business participation is completely free, extremely easy, and we offer free bookkeeping services and support materials to get you started. Voluntary donations are collected from your customers and help preserve Gunnison County's open space, recreational access, gorgeous viewsheds, ranching heritage, wildlife habitat, watersheds and important ecosystems. We have over 100 businesses currently participating. Already with lodges, restaurants, retail stores, real estate agents and guiding companies, there is no limit to the kind of business that can participate. Donations stay in the part of the valley where you conduct your transactions, so businesses from Gunnison to Almont to Crested Butte can all participate.
Businesses interested in simply learning more about the program should contact Executive Director Molly Murfee at 970-349-1775 or director@1percentforopenspace.org for a free informational coffee date to answer questions and help strategize how to best fit the program into your business. Visit www.1percentforopenspace.org for complete information on the program, funded projects, and participating businesses.