1% for Open Space announces its pledge of $78,000 to permanently preserve 158 acres of North Pole Basin.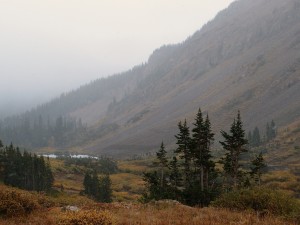 Recently, Great Outdoors Colorado (GOCO) decided to help fund the purchase of North Pole Basin with a grant of $700,000, making its permanent preservation a foreseeable reality. We are proud to say that 1% for Open Space funding, as well as that made by the Gunnison Valley Land Preservation Fund, played an essential role in GOCO's grant approval.
While seemingly a smaller donation in comparison to the literal millions GOCO is able to generate, we at 1% want to make sure that our community members know that without the organization's crucial local support, such large grants would noteven be available for our benefit.
Our strength is in the community support our grants demonstrate. Our funding has an incredibly strong voice, backed by our 85 participating business and the literally hundreds of thousands of their participating customers. We make a very powerful statement of our community's values when we pledge funds.
This was made personally apparent to me at a GOCO board meeting held this fall in Crested Butte, where I had the opportunity for multiple conversations with GOCO board members expressing the absolute necessity of these local funding sources.
They simply won't give a project money unless it has local support, and they are extremely impressed with the support open space receives here in the valley. They notice when entities such as the Gunnison Valley Land Preservation Board receive more than 80% of voter approval. Many of them were asking me how to start their own 1% funding program in Denver. I take that as a great compliment for our organization.
So what, exactly, has been preserved? Why are such words as "vital" and "critical" being thrown around in relation to this project?
The North Pole Basin is a large and important piece of the High Elk Corridor, a vast tract of land situated between the Maroon Bells-Snowmass and Raggeds Wilderness areas, surrounded by the White River National Forest. It stretches from Gothic to Marble, including the historic mining towns of Schofield Park and Crystal. For the outdoor enthusiast, these are the homes of trails such as Yule Creek and West Maroon, guarded by the sentinels of Baldy, Crystal, Treasure and Treasury. Preservation of the High Elk Corridor stands as one of Colorado's longest running conservation efforts.
Here, thousands of acres of mining claims created in the 1800's have remained privately owned. But now, through the conservation efforts of the Trust for Public Land, Rocky Mountain Biological Laboratory and Crested Butte Land Trust, over 1,800 acres are preserved. 1% for Open Space has been an important funding partner to these organizations throughout many of these preservation projects.
Preservation of the North Pole Basin has been orchestrated by the Crested Butte Land Trust, who will hold the conservation easement, and the Rocky Mountain Biological Laboratory, who will own the land. The property, once a Commonwealth Placer mining claim, has been purchased from the North Village Reserve, a subsidiary of the Crested Butte Mountain Resort. CBMR had acquired the property through the previous ownership of the resort. The current owners are selling the highly valued property at a bargain sale, donating 30% of its value to the conservation project.
North Pole Basin itself shares borders with Schofield Park, much of which is also permanently preserved, and the Mexican Cut, another critical piece of land preserved with the help of the Nature Conservancy in the 1990's. The Mexican Cut is used by the Rocky Mountain Biological Laboratory for sensitive research.  With the addition of the North Pole acreage, their field of research just got a lot larger.
Previously, access to the North Pole was only granted through permission. With RMBL's ownership the property will be re-opened to the public via a hiking trail. Now, hiking through the water-laden basin, camping in the upper echelons of the high alpine meadows beneath Treasure Mountain, climbing Crystal Peak, and backpacking through Bear Basin, will all be available for public access through an easement granted by CBLT and RMBL.
The North Pole Basin isn't 1% for Open Space's first rodeo in the High Elk Corridor.  Since 1999 the organization has pledged $221,923 to preserve 232 acres in this area alone. These projects have included Schofield Park, Paradise Divide, Paradise Basin, Yule Creek, Maxfield (Gothic) Meadows, and Crystal Peak. Organizations such as the Crested Butte Land Trust, Rocky Mountain Biological Laboratory and Trust for Public Land have all received individual grants from 1% to help see these projects become a reality.
It is vital for business participation in the 1% program to continue to increase, and for customers to not only frequent 1% businesses, but encourage those not yet a part of the program to join. Much of the incredible beauty we enjoy in the valley isn't magic or free, but a result of the hard efforts of the land preservation and funding organizations we have here locally.
The real beauty in 1% is that every single person that has stepped foot through a 1% for Open Space business and purchased anything – be it a $20 pair of socks or a week's stay in a local cabin – can feel proud to have donated to the preservation of the North Pole Basin. This program allows everyone to participate and take ownership in these successes.