1% for Open Space has recently pledged grant monies to help fund the reconstruction of damaged whitewater wave features #2 and #3 of the Gunnison Whitewater Park. These funds will be used as a portion of the 10% cash match required for the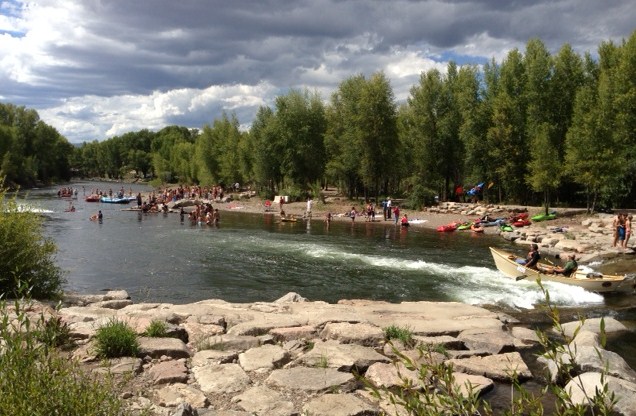 award of a requested Great Outdoors Colorado grant.
"We have heard from so many people in the Gunnison community that the repair of the Whitewater Park is important to them," says 1% board president Glo Cunningham, "We are thrilled to offer funding to help preserve this crucial recreational amenity."
1% made the decision to help fund the repairs because they recognize that while Gunnison County is a haven for outdoor recreation—from biking and hiking, to fishing and rafting—the Gunnison Whitewater Park stands alone as the sole experience of its kind in the area. Its position as a major economic driver in the County with aquatic recreationists, as well its vital role in supporting the Gunnison River Festival and rafting and fishing companies were also stated.
In addition, the 1% for Open Space board felt other benefits associated with the reconstruction, such as enhanced habitat for fish, improved bank stabilization for the riparian river ecosystem, and greater functionality of the important 75 Ditch, were also influential to the decision.
"What is exciting to us about this project is that it offers support for a major recreational asset in the southern end of the valley," adds 1% Executive Director Molly Murfee, "We want the Gunnison and Almont communities to know that 1% for Open Space is established to fund projects throughout the County, not just in the Crested Butte area."
1% for Open Space raises funds through voluntary donations from customers of over 100 participating businesses to help preserve Gunnison County's open space, recreational opportunities, gorgeous viewsheds, ranching heritage and important
ecosystems. Since 1997, 1% has collected over $2 million to help protect over 5,100 acres in Gunnison County.
"Any business in Gunnison County can participate in 1%," encourages Murfee, "And money collected stays in the part of the valley where you operate. Pledged support to repair the Gunnison Whitewater Park is a perfect example of how funds collected from participating Gunnison businesses can help protect valuable south-of-the-valley assets."
For more  information on 1% for Open Space visit www.1percentforopenspace.org or call 970-349-1775.