1% for Open Space has recently pledged grant monies to Trout Unlimited for their Lower Tomichi Creek Riparian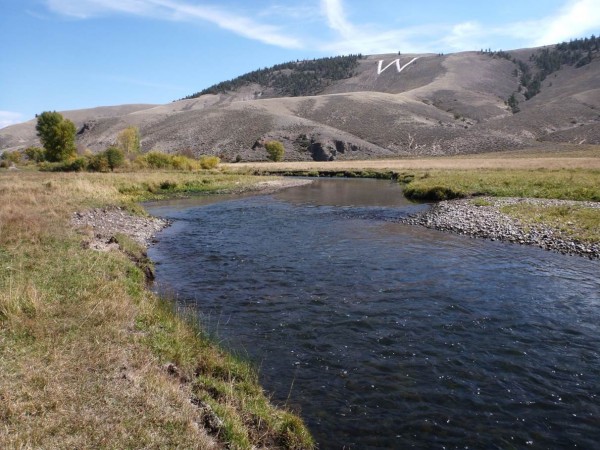 Restoration Project in Gunnison. The project aims to improve riparian health, streambank stability and water quality for Tomichi Creek while protecting the historic agricultural values on W-Mountain Ranch.
Restoring the riparian ecosystem will increase flood management, reduce erosion and improve aquatic habitat, while also enhancing access to and control of irrigation water. This is being accomplished through revegetation of the streambank with willows and cottonwoods; altering fencing techniques to better facilitate livestock management; and re-constructing the Goodwin and Wright diversion to decrease channel disturbance, allow proper access of Tomichi Creek to its floodplain, and keep the main flow of the water aligned with the geomorphology of the creek. The new diversion design will also improve fish migration.
We feel that taking care of the land and water that sustains us both economically and  recreationally, as well as providing valuable terrain for food production, is important," states 1% for Open Space Executive Director Molly Murfee, "If we can't be good stewards of this land, no one else will either."
Tomichi Creek provides habitat for various aquatic animals and fish including trout, salmon and otters. W-Mountain Ranch protects 1000 acres of pristine undeveloped meadow and has 3.7 miles of Tomichi Creek running through it.
For 1% for Open Space, the project addresses several of their core values that guide their funding decisions. The restoration supports 1%'s value of watershed and ecosystem integrity by helping improve the riparian ecosystem and therefore fish habitat. This in turn addresses a second value of preserving recreational opportunities, as improving water quality and habitat diversity will enhance angling upstream on the Tomichi Creek State Wildlife Area, and downstream near the confluence of the Gunnison River,. Additionally, the project works with local ranchers to assure their ability to continue their economic lifestyle in a manner that also sustains the supporting ecosystems. Climbers of W Mountain will appreciate the winding viewsheds of Tomichi Creek and mountain meadows of the W-Ranch that spread below them.
1% for Open Space raises funds through voluntary donations from customers of over 100 participating businesses to help preserve Gunnison County's open space, recreational opportunities, gorgeous viewsheds, ranching heritage and important ecosystems. Since 1997, 1% has collected over $2 million to help protect over 5,100 acres in Gunnison County.
Funds for the Tomichi Creek Restoration Project were raised by participating 1% for Open Space businesses in Gunnison. Donations collected by these Gunnison businesses stay in the southern part of the valley to exclusively help projects surrounding the areas from Almont to Gunnison.
"We are really striving hard to get more Gunnison business participants," encourages Murfee, "The amount of money and number of projects we are able to fund is directly proportional to the number of businesses we have participating in the programmers as well as their donating customers."
1% for Open Space is now in its Fall Sign Up Season through December 12. Interested businesses should get in touch with Executive Director Molly Murfee for a free coffee date and information session. For more information on 1% for Open Space visit www.1percentforopenspace.org , call 970-349-1775 or write at director@1percentforopenspace.org.