1% for Open Space is a consortium of local businesses working to permanently preserve open space in Gunnison County.  100% of our income is collected by these businesses.  This open space serves to protect our spectacular viewsheds, recreational access, wildlife habitat, ranching heritage, rural lifestyle, and watershed and ecosystem integrity.
1% for Open Space is the oldest, most established and most successful collection program of its kind in the country.  As of 2011, we have raised over 1.7 million dollars to preserve over 4,500 acres in Gunnison County.  We are an independent, unaffiliated, 501c3 non-profit organization.
The program is overseen by an Executive Director and a seven-member Board of Directors.  The majority of the board is comprised of local business owners who participate in 1% for Open Space.
How it Works – The Basics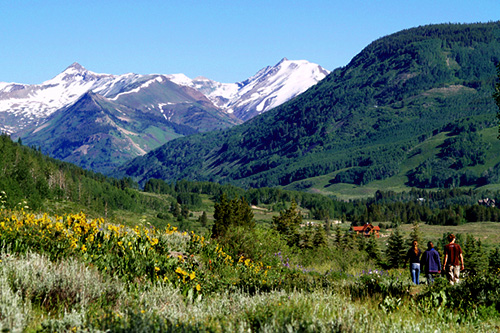 Funds are raised solely by the participating businesses collecting a voluntary 1% donation on the gross sales before taxes of products and services from their customers.  Businesses mail their collected donations to 1% on a payment plan of their choice.  The money is then put into a variety of high interest bearing accounts where it sits until an application is presented requesting funds for a project.
This money is granted to requesting entities for the preservation of land solely in Gunnison County.  Any organization wishing to receive these funds for open space preservation projects must complete a formal application, which must then be approved through a majority vote of the Board of Directors.
The program has thus far funded projects initiated by the Trust for Public Land, the Crested Butte Land Trust, the Gunnison Ranchland Conservation Legacy, the Rocky Mountain Biological Laboratory and the Town of Crested Butte.
Who Participates
There is no limit to what kind of business can participate, nor are there any commitments on how much your business must contribute. No donation is too big or too small.  Because we fund projects throughout the county, both Gunnison and Crested Butte businesses may participate.
As of 2011 there are over 75 participating businesses in the program.  They include restaurants, retail shops, realtors, building industry contractors, lodges, health and beauty service providers, artists, property managers, guiding companies, animal service providers, landscapers, educational institutions, and the local ski industries.
How the Land is Protected
We protect land in perpetuity.  This means that no matter if an organization or landowner goes bankrupt, or if land ownership changes hands, that land is still permanently protected.  This protection is upheld by a court of law.
Conservation Easements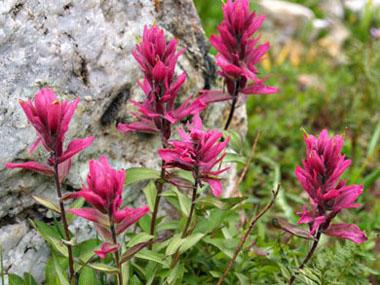 Most of the properties we help preserve are placed under a conservation easement.  A conservation easement is a restriction placed on a piece of property to protect its associated resources.  The easement is voluntarily donated or sold by the landowner and constitutes a legally binding agreement.
Easements often have a variety of restrictions placed on them at the time of signing.  This certainly includes how the land might be used.  An easement might allow for the construction of a trail or use of an existing trail.  The user group for the trail might be defined, such as hiking, biking, equestrian, skiing, camping, or hunting.
In the case of conservation easements for ranches, the easement will allow for the historic, agricultural uses of the land, but no other industry can be explored on that land.  Conservation easements on ranchland allows the current owner to pass his or her legacy down to their heirs, so they may too continue with their family's business.  An easement might include provisions for a landowner to build a structure, and how large it might be.  Each easement is different and often includes desires and needs of the land owner, subdivision or conservation organization.
Easements are further managed by a system of checks and balances.  Whereas one entity might actually own the land, another must hold the conservation easement.  For example, while the Town of Crested Butte owns outright the Kochevar Open Space parcels, it is the Crested Butte Land Trust that holds the easement.  Conversely, while the Crested Butte Land Trust owns the Kikel Parcel (or the 70 acres at the Slate River Winter Trailhead), the Town of Crested Butte holds the conservation easement on this property.  This assures that the conservation easements restrictions are not being violated by mandating that two entities watch over the property.
Other Protections
Some of our funded properties, such as the parcel on Kebler Pass or the pond at Paradise Divide, are turned over to the Forest Service for protection and management.  Others, such as many owned by the Rocky Mountain Biological Laboratory, are kept in their stewardship and so that they may continue to conduct their research on that land.
Grant Agreements
Additionally, when we fund a project, a Grant Agreement must be signed by the requesting entity.  This is especially important in instances where a conservation easement is not being placed on the land, and is therefore not subject to the restrictions of the easement.  The Grant Agreement states that the property must be maintained as to the uses specifically stated in the application.  We must be notified of any changes, including proposed trails or transfer of property rights.  If the changes are not congruent with 1% for Open Space's mission, we may decide to not allow the changes.  If the entity continues with the changes, we may retract our funds with interest.  Each entity receiving money from us must submit us a yearly report on the state of the property so that we may keep track of such matters.
1% for Open Space does not own land or hold conservation easements.  We simply help purchase them.
Who Can Use the Properties & How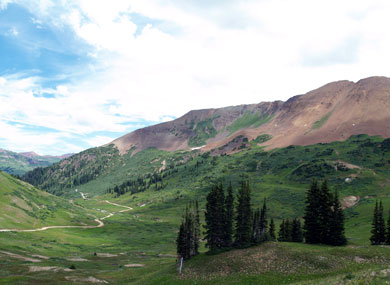 All of the properties we have funded, with the exception of conservation easements placed on ranchlands, are available for public use.  How the public can use the land is offten dependent on the conservation easement.  Most have trails on them, some do not.  A variety of uses are allowed on the properties including hiking, biking, cross-country skiing, horseback riding and hunting. For properties that do not have trails, the lands are still available to the public for such activities as camping, photo taking, picnicking, viewing and other non-trail uses.
For conservation easements placed on ranchlands, those lands are protected so they may continue to function as working ranches.  While the public can not physically access these areas, we all benefit in the protection of viewshed, ecosystems, wildlife habitat and rural lifestyle that these ranches provide.
A full list of each of our properties can be found on the Funded Properties section of our website which includes specific location, uses according to the conservation easement, ecological and cultural value, photos and other information about the property.
How We Do Business
We work hard to keep our expenses down.  Only 20% of collected donations fuels our operating expenses.  This means that for every $100 you collect, $80 goes to actual land and easement purchases.  The national average for non-profit operating expenditures is 35%.  We do not engage in any other fundraising ventures.  Because each of our participating businesses posts informational signs, we have little need for massive advertising campaigns.  Many local marketing businesses participate in the program with in-kind gifts of advertising.  Additionally, to help conserve monetary and physical resources, we primarily communicate with participating businesses in our newsletters and announcements through electronic means.  We maintain one part-time employee, the Executive Director, and our seven board members are all non-paid, volunteer positions.
In other words, we keep it streamlined and simple to preserve as much land as we possible can.