If you are interested in becoming a 1% for Open Space participating business member please contact Executive Director Molly Murfee to set up an appointment at (970) 349-1775 or director@1percentforopenspace.org. At this meeting you will receive valuable information on how 1% can fit perfectly into your business with time-tested strategies and all the materials you need to get started.
Below are some documents that will be shared at this meeting. Feel free to download and review these documents beforehand if you wish.
1% for Open Space Intro Packet – This is your comprehensive and compact explanation of how  the program works, how land is preserved, who we fund, basics on how to sign up, and what we do for you in return. This information may also be found throughout our website.
Board and Businesses – Here is a list of our current Board of Directors, as well as our participating business members.
Funded Properties Maps –  We currently fund projects within Gunnison County in three different areas. These maps show you where we've given money to permanently preserve open space and who our partner was with the project.
1% for Open Space Brochure – This is the most concise form of information about the program if you only have time for the quick and dirty explanation.
Contract – Each business signing up to participate in the program must sign a contract. One copy remains with you and one copy must be sent to the 1% for Open Space office.
USEFUL RESOURCES
The following documents are useful tools for newly establishing 1% for Open Space in your business. These tools are also helpful for businesses already participating in the program. As supplies wear out and need replacing, this is any easy way for you to access your needed operational documents. Additionally, simply contact the Executive Director to request these materials.
Signs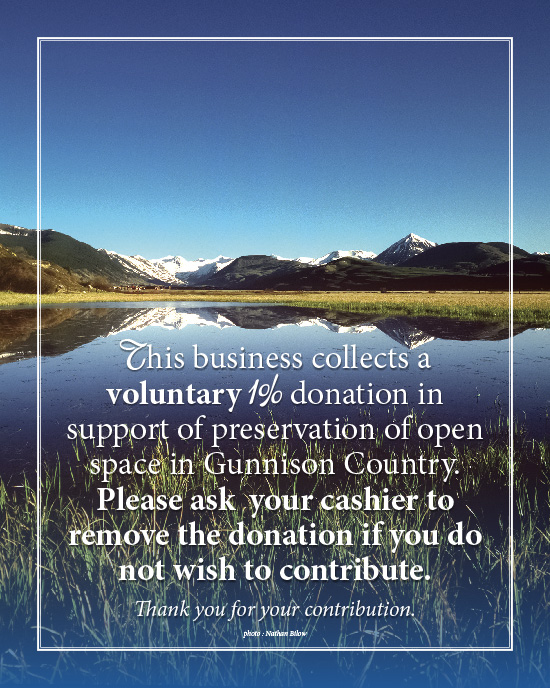 As a 1% business you agree to post two signs in a publically visible location in your physical place of business. Below are our current three options for signs. If your business contributes to the program through personal donations or in an alternative mode of collection, please contact the Executive Director for a personalized sign.
Postcard Size Sign – This sign is the most preferred for small spaces and next to the register.
Rackcard Size Sign – Restaurants predominately use this sign to insert in their check covers, but it is available for other uses as well.
Notebook Size Sign – This is the best sign to put in your front window or door as the main sign for customer notification of your participation in the program.
Documents
Fact Sheet for Employees – As a business owner we know you're not always the one working at the counter or having one-on-one interactions with your customers. This document is meant to hang in an accessible location for your employees as a quick resource for questions they might encounter from your customers.
Fact Sheet for Customers – This document is especially useful for our lodging businesses or businesses that operate in larger transactions to help individually inform customers of their opportunity to donate to the 1% for Open Space Program. It is also a helpful document, however, to keep on hand should a customer of any business simply want to know more.
Sample Invoices – We have many participants who do business through invoicing. Here are two sample invoices to demonstrate how you can easily add the 1% for Open Space donation option to your pre-existing invoice.
Sample Invoice 1
​Sample Invoice 2
Website Descriptions – As a participating business we encourage you to place our logo with a link on your website. The Website Descriptions are a collection of short paragraphs you may use for this purpose. Please feel free to adjust the wording to fit your particular needs. Additionally, you may contact the Executive Director to assist you with your wording.
​Website Descriptions for Crested Butte Businesses
Website Descriptions for Almont and Gunnison Businesses
Logos – When putting 1% on your website please use a logo and the link www.1percentforopenspace.org. Linked are several high quality downloadable logo options for your website, ads, brochures and other media.
Personalized Customer Letters – For businesses who invoice, many times it is desirable to include a letter of explanation of your participation in 1% to include with the bill. Below are two examples of personalized letters that may be used as templates for such a purpose. Please feel free to adjust the wording to fit your particular needs. Additionally, you may contact the Execute Director to assist you personally with your wording.
​Personalized Customer Letter 1
Personalized Customer Letter 2