We know that signing up is a commitment.  Here are some things we promise to do for you in gratitude for your efforts.  It's an ever-growing list, new opportunities happen every year.
Promotional Efforts
We run a Welcome New Business ad in local papers announcing you as a new participant with 1% for Open Space
Your business name is added to our Thank You Ad in local papers
We regularly run press releases in the local papers educating readers about new participating businesses as well as land conservation activities of the program
Your business profile is added to our website. This includes your picture, contact information, website link, and detailed information about your business
We are constantly working through creative advertising to drive more business to you. These include such efforts as coupon promotions, education of your involvement to our friends and business associates, facebook campaigns, and radio exposure
Through our partners, the Crested Butte / Mt. Crested Butte Chamber of Commerce's Think Local First Campaign and the Office for Resource Efficiency's EnergyWise Business Program, we consistently work for new ways to positively expose your involvement in the program through a variety of cross-marketing campaigns
We are an advocate for promoting open space and ecotourism as economic drivers in our communities with entities such as the Chambers of Commerce and Tourism Association
Keeping You Informed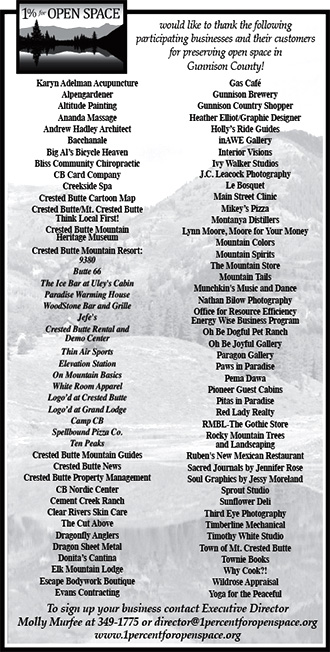 It's important to us that you stay excited about being a part of the 1% for Open Space program so we work hard to keep you educated and informed about our activities.
Electronic newsletters are sent throughout the year detailing projects your collections have helped fund, organizational updates and other relevant land conservation news
We send an annual letter letting you know how much money your individual business has raised throughout the year, as well as figures on how much the organization raised as a whole
Our website is updated regularly with business announcements, project updates and other trail and conservation news and opportunities we think you might be interested in
Staying in Touch
The Executive Director and Board of Directors make regular visits to your business to answer questions and resupply your materials, typically at the beginning of the winter and the summer seasons
We know, however, that there are times you need to just be left alone to run your business. When you're busy, we'll leave you alone unless you call
You are welcome to call the Executive Director or any member of the Board of Directors should you ever have a question about the program, a funded project or other activity, or need extra materials