Local Businesses Participating in 1% for Open Space
Each of the following businesses has made a commitment to collect a voluntary 1% donation from their customers. Please intentionally frequent these businesses to take advantage of your opportunity to donate to the 1% for Open Space program.

If you are already a participating business and would like online access to some of your operational supplies, please click here for downloadable versions of the Fact Sheet for Employees, Fact Sheet for Customers, Signs, Sample Invoice and other materials.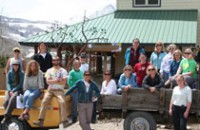 Providing all you with a vast selection of high mountain tolerant flowers, … Read More