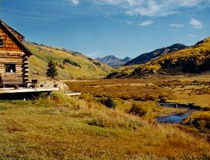 A Colorado cabin rental, in a breathtaking valley, completely surrounded by the 1.7 million acre Gunnison National Forest. Enjoy fly fishing, mountain biking, hiking, skiing, snowshoeing, and much more.
For the vacationer in search of a unique experience in the heart of the Colorado Rocky Mountains, Cement Creek Ranch is the place! Most of its 121 acres are mountain meadows with two miles of crystal clear Cement Creek meandering through its length. Warm springs flow out of the ground to feed a swimming pool and a pond, and eventually cascade over cliffs to the creek below. Cement Creek is a very special place with its own character and beauty.
Cement Creek Ranch is conveniently located for those who want to explore Gunnison County and Western Colorado. The quaint old mining townand ski resort of Crested Butte is only 20 minutes away.
Guests are accommodated in a cozy, comfortable, two bedroom cabin, with unsurpassed views and complete privacy. It is the only visitor accommodation available on the ranch.
Reservation Information:
Reservations for Cement Creek Ranch are only made over the phone.
A 50% deposit is required to reserve the cabin.
Normally there is a three night minimum stay.
Cement Creek Ranch
4670 County Rd. 740
Crested Butte, CO 81224
Phone: (970) 349-6512
www.cementcreekranch.com