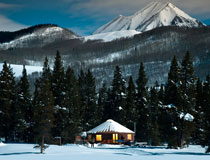 The Crested Butte Nordic Council (CBNC) serves residents of and visitors to Gunnison County throughout the winter months, offering cross-country skiing, ice skating, snowshoeing,guided tours and sledding. Our mission is to provide individuals of all ages and abilities the opportunity to learn, enjoy and improve in the sports of cross-country (Nordic) skiing and snowshoeing.
Our 50-kilometers of groomed cross-country ski trails meander through the outskirts of Crested Butte, a quaint Victorian mining town and National Historic District. Ski or snowshoe along the East River, through forest, or up the Mt. Crested Butte Recreation Path. Our trails, groomed for both classic and skate skiing, can accommodate all ability levels – novice to advanced.
Our rental shop has the latest in cross-country ski equipment. We have new Rossignol skis and boots for the tracks or off track touring. If snowshoeing is more your style, we offer Atlas snowshoe rentals for adults and children. Rentals are also available for ice and hockey skates. Seasonal rentals are an option.
Ski school is the fastest way to cross-country fun. Our ski school instructors are adept at making Nordic skiing easy and enjoyable. If you're looking to improve your form, our expert instructors can help you smooth out the wrinkles in your classic style or your skating form. Lessons are offered daily, and special programs and events are held throughout the season.
For the more adventuresome, we also offer backcountry ski tours or moonlight ski parties. The Nordic Center also takes reservations for the Forest Queen & Maroon Huts in Gothic, Colorado – a 4-mile ski or snowshoe from the Gothic Road trailhead.
Crested Butte Nordic Center
PO Box 1269
620 Second Street
Crested Butte, Colorado 81224
Phone: 
970-349-1707
Fax: 
970-349-6428
Web: 
www.cbnordic.org
Email: info@cbnordic.org